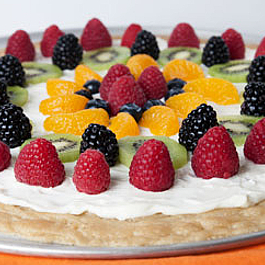 Courtesy of Wheat Foods Council
Servings: 12
Prep Time: 15 Min.
Cook Time: 12 Min.
* 1 18-oz. pkg. refrigerated sugar cookie dough
* 4 oz. cream cheese (1/3 less fat), softened
* 2 Tbsp. sugar
* 1 11-oz. can mandarin oranges, drained
* 6 large fresh strawberries, sliced in half
* 2 medium kiwis, peeled and sliced
* 1/4 c. blueberries, blackberries or raspberries OR fruit of your choice
1. Roll cookie dough evenly on a 15-in. pizza pan, coated with nonstick spray. Leave approximately 1-in. around the pan uncovered as dough will spread in baking. Crimp outer edges of dough.
2. Bake 12 to 15 minutes at 350°F until edges begin to brown. Do NOT overbake. Set aside to cool.
3. Beat cream cheese with sugar until smooth. Spread evenly over cooled crust. Top with fruit and serve.
4. Must be refrigerated.
Calories: 240;
Total Fat: 11g;
Saturated Fat: 3g;
Cholesterol: 25mg;
Total Carbs: 33g;
Fiber: 1g;
Protein: 3g;
Sodium: 160mg;