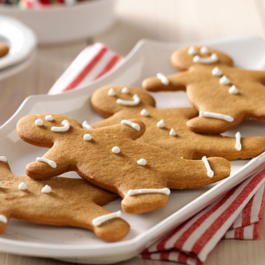 Courtesy of Kraft Kitchens
Servings: 20
Prep Time: 20 Min.
Cook Time: 12 Min.
Chill Time: 1 Hr.
* 3/4 cup (1-1/2 sticks) butter, softened
* 3/4 cup firmly packed brown sugar
* 1 pkg. (4-serving size) JELL-O Butterscotch Flavor Instant Pudding & Pie Filling
* 1 egg
* 2 cups flour
* 1 tsp. baking soda
* 1 Tbsp. ground ginger
* 1-1/2 tsp. ground cinnamon
* 1 Tbsp. water
* 1 c. powdered sugar
1. COMBINE first 4 ingredients. Beat all remaining ingredients except powdered sugar and water in large bowl with mixer until blended. Gradually add flour mixture, mixing well after each addition. Refrigerate 1 hour.
2. HEAT oven to 350°F. Roll out dough on lightly floured surface to 1/4-inch thickness; cut into gingerbread shapes with 4-inch cookie cutter, rerolling trimmings as necessary. Place, 2 inches apart, on baking sheets sprayed with cooking spray.
3. BAKE 10 to 12 min. or until edges are lightly browned. Cool on baking sheets 3 min. Remove to wire racks; cool completely.
4. MIX powdered sugar and water until blended. Use to decorate cookies as desired.

Make it Easy:
To easily decorate these cookies, fill a resealable plastic bag with prepared frosting. Seal the bag and cut a small corner off the bottom of the bag. Roll down the top of the bag to squeeze the frosting over the cookies to decorate as desired.
Calories: 170;
Total Fat: 7g;
Saturated Fat: 4g;
Cholesterol: 30mg;
Total Carbs: 24g;
Fiber: 1g;
Sugar: 11g;
Protein: 2g;
Sodium: 200mg;